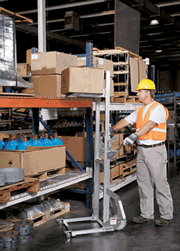 Genie Loadlifter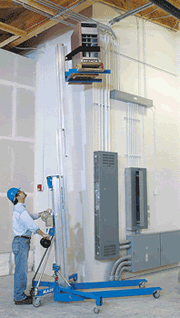 Genie Superlift Advantage
Genie Lifts
Key Features
Genie Superhoist
CO2 or compressed air powered.
Loads up to 136Kg to a Height of 3.8m.
Loads up to 113Kg to a height of 5.6m.
Pistol-grip control handle.
Easy to Set Up in seconds.
Portable - Will fit in a car boot.
Genie Load Lifter
One person operation.
Lifts up to 95Kg to a height of 1.7m.
Compact and portable (Weighs 26Kg).
Quiet, high-speed reversible winch.
Beveled aluminium platform for easy loading.
None marking swivel wheels and footbrake options.

Genie Lift
3 base options to suit requirements.
Compact, Manoeuvrable Design.
Reversible steel forks and winch handle for flexibility.
Options include electric winch, ladder, load handling platform.
Optional boom will turn your Genie Lift into a vertical crane or hoist with up to 227Kg SWL.
Genie Superlift Contractor
Designed specifically for the construction industry.
Heavy-duty but can be operated by one person.
Lift, lower and move loads up to 295 kg to heights of up to 7.32 m.
Glide rails allow one person to easily load or unload the unit, as well as lift it in or out of a pickup truck. Quick setup requires no tools.
Compact form factor
Quiet, Two-Speed Winch Option
Six Interchangeable Accessories

Genie Superlift Advantage
Multiple base, winch and load handling options.
Compact, portable design rolls through standard single doorways in the upright position.
Easy to load into a pickup truck.
Optional 2 speed winch allows on the fly gearshift.
Easy to Manoeuvre and Store
Extreme Durability
The patented, field-proven telescoping mast system is compact, strong and rigid.
Data sheets
Click the link to the Data sheet you require in PDF format.

Genie Material Lift Family Brochure
SuperHoist Product Specification
LoadLifter Product Specification
GenieLift Product Specification
Superlift Contractor Product Specification
Superlift Advantage Product Specification
We supply, repair, service and test all types of Genie lift in our workshop. Please contact us for more information.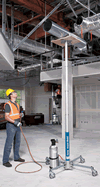 Genie Superhoist

Genie Lift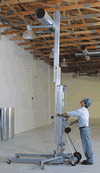 Genie Superlift Contractor