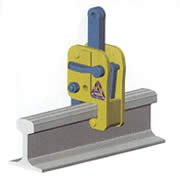 CR Rail Clamp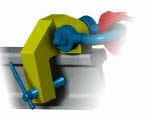 RP Rail Pulling Clamp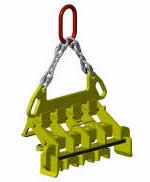 MR Multi Rail Clamp
Rail Clamps
Key Features
CR Single Rail Clamp
Developed to lift single rails
Designed to fit most types of rail section.
Narrow profile for easy attachment to stacked rails.
RP Rail Pulling Clamp
Used for pulling single rails.
Fits to most rail sections currently in use.
MR Camlock multi-rail clamps
Designed to facilitate the fast, safe bulk handling of rails.
Used as a minimum in pairs retaining the rails rigidly.
Eliminates the necessity of levering rails into position.
MRC Camlock multi rail clamps
Designed for bulk handling of rail sections.
Used in pairs and retains the rails in base flange position.
The MRC has interchangeable combs for different rail types.
Data sheets
Click the link to the Data sheet you require in PDF format.
Coming Soon!
We can repair, service and test all makes of rail clamp in our workshop.

TH Wheel Clamp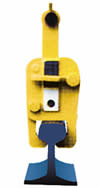 CR Rail Clamp


MRC Multi Rail Clamp