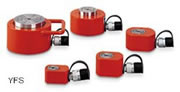 Yale YFS Pad Jacks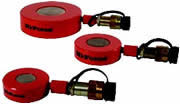 Hi Force Pad Cylinders
Pad Jacks
Key Features
Low closed height – as little as 32mm.
Gravity or spring return.
Safe working loads from 4.5 to 100t.
Screwed ram and locking collar available.
Lightweight and compact.
Data sheets
Click the link to the Data sheet you require in PDF format.
Coming Soon!
We supply many makes of hydraulic jack and cylinder and can repair, service and test all makes in our workshop.

Europress Pad Jack