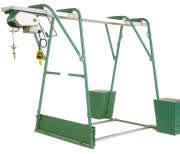 Gantry Hoist With Ballast Boxes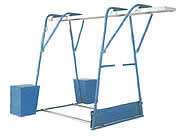 Builders Gantry hoist
Key Features
Available up to 1 tonne SWL
110v, 240v and 415v options
Flexible, lightweight and portable
A frame and cantilevered facility
Running beam can be scaffold mounted to offer a high degree of flexibility.
Data sheets
Click the link to the Data sheet you require in PDF format.
Coming Soon!
We supply other makes of Gantry hoist and can repair, service and test all makes in our workshop.