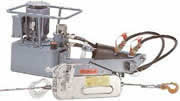 Tractel TU 16 Hydraulic Tirfor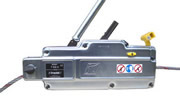 Tractel T532 Manual Tirfor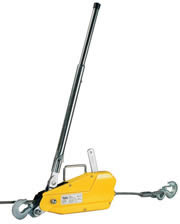 Yale LP 500Kg Cable Puller

Yale Little Mule Cable Grip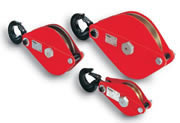 Sheave Blocks
Cable Pulling Machines,
Hydraulic Tirfors and Power Packs
Key Features
Infinite hol with high SWL capacity.
Up to 4 units can be run from 1 power pack.
110v/415v petrol power pack options.
Fast and simple installation.
Precise operation.
Manual Cable Pullers
Key Features
Works in any position, horizontal, vertical, at any angle.
Safe working loads from 800kg to 3.2t.
Increased capacities with sheaving
Any height of lift, length of pull.
Load held by specially designed jaws at all times.
Operating levers move in relation to rope movement providing   precise control.
Shear pins to prevent overloading.
Fast, simple installation.
Data sheets
Click the link to the Data sheet you require in PDF format.

Yale Cable Pullers PDF
Tractel Manual Tirfor PDF
Tractel Hydraulic Tirfor PDF
We supply other makes of leaver hoist and can repair, service and test all makes in our workshop.
Increase the Capacity of a Cable Puller
The lifting and pulling power of cable pulling machines can be greatly increased by the use of multiple sheave blocks. These can increase the nominal capacity of the Tirfor machine by 2, 3 or 4 times or more (see diagram). For most applications, an allowance must be made for friction in the sheaves. Ensure that the capacity of the blocks, fittings and anchor points are suitable for the load. When using the Tirfor for pulling purposes it should be remembered that the necessary pulling effort is not equal to the weight of the load to be moved.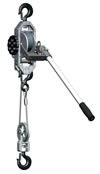 Yale LM Cable Puller