What is a SectionLift spreader beam?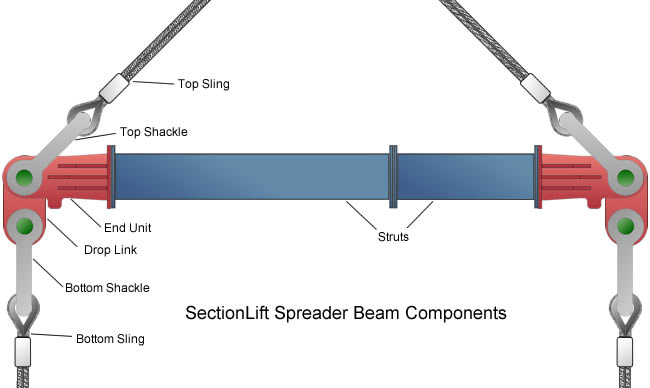 When lifting a load standard spreader beams are designed to hold the load attachments apart, usually vertically, to prevent crushing or distortion. Multi point spreader beams are also able to support fragile loads which would be damaged if lifted with too few lift points.  Traditional spreader beams tend to be designed for a single lift and cannot easily be reused for different spans or weights. Sectional or modular beams can be assembled to form virtually any span or configuration allowing for a cost effective lifting solution for a wide range of lifting and handling applications.
SectionLift modular spreader beams are a versatile system of interchangeable components which are assembled to offer a wide array of lifting solutions from simple 2 point spreader beams to multi beam lift rigs.
We are able to provide SectionLift lifting solutions from stock components from 0.5 tonnes to 350 tonnes capacity and up to 32m in length. Our in house design team can provide bespoke lifting solutions up to 3000 tonnes.
All SectionLift spreader beams undergo a rigorous test and inspection procedures both during manufacture and prior to dispatch and carry full certification in compliance with all current European regulations and standards.
SectionLift also supply all rigging components and accessories required to carry out your lift.  This includes shackles, wires, slings, strops, end fitments, chains and lugs.